Image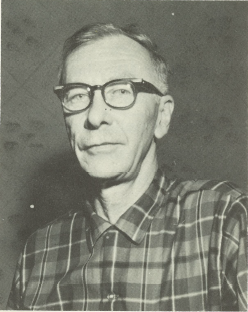 Robert G. Miner
Lighting Designer of Distinction
Bob Miner - engineer at Trane Company by day - technical wizard at night. He created amazing and interesting things with lights, building LCT's first stage lights from 3-lb coffee cans.  The incredible lighting effects seen in The Night of the Iguana was created by self-made Linnebach projectors. He devised several lighting designs and assembled them at whichever venue had been secured for the performance - Longfellow, Aquinas, Mount La Crosse Tent Theatre, etc. Bob also built the original light board that was used for many years until LCT purchased a new for the Fifth Avenue theatre.
Hall of Fame inductee Colleen Kavanaugh remembers Bob fondly, "Bob was a font of wisdom and stories. He even turned his skills to acting; he appeared in Neil Simon's Plaza Suite."  (7/15/71)
One of Bob's most memorable achievements was creating the special lighting effects on the back scrim of the theatre for The Night of the Iguana (3/6/70) using two Linnebach projectors crafted by Bob and fellow Trane engineers.
Board President and Founder Sally Cremer noted this in the program for King of Hearts, "Two years ago this month, the La Crosse Community Theatre presented its first production; tonight you are viewing our seventh. There are two names which have appeared in all seven programs – those of Robert G. Miner and Erling Fadness. These two men have served the theatre faithfully, giving not only the time required to do the job well, but giving the overtime to do the job better. Thanks to their loyalty and hard work, the lighting and staging of our shows have constantly improved, and under their guidance and direction others have been trained in these aspects of the theatre arts."
Image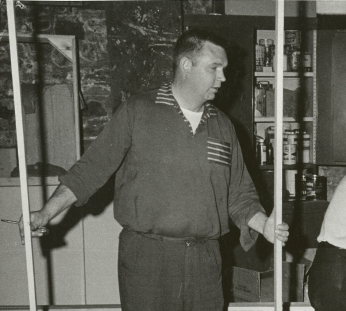 Erling Fadness
Technical Director of Distinction
Erling Fadness made LCT possible in the early days building the vast majority of sets. Because LCT didn't have a home in the early days, he often had to assemble a crew to move them from the build site to the performance space! His crowning achievement was the set for Oliver. Michael Thompson, who was the Managing Director at the time, commended Erling on his ingenuity and dedication to adapt the award winning set design. Erling served as LCT's primary Technical Director throughout the 60s. When he wasn't serving as the TD, he'd help out as a set designer, builder, mover, and even a consultant. In the words of Michael Thompson, Erlings' "long hours of plain work are as much a part of [the] magic of our brightest performers, our loveliest music."
"The GORGEOUS set for Oliver! (11/4/66) and the impossible set for Teahouse of the August Moon (5/5/66), that included a full sized Jeep on Longfellow's (middle school) stage, which has a regular door on each side of the stage. They managed getting the Jeep up there by cutting it in half, front to back." Colleen Kavanaugh, LCT Hall of Fame Inductee
For Oliver, Managing Director Michael Thompson extended a special thank you, "…[Erling's] ingenuity and dedication, coupled with long hours of plain work, are as much a part of tonight's magic as our brightest performers, our loveliest music."
"Erling was a backstage wizard in the early days. He seemed to do everything with the building of the set: he planned, pounded, painted, -sometimes all by himself when there were no volunteers to help." –Julia Saterbak, LCT Hall of Fame Inductee
 "Without Erling and Bob, and their immense creativity, LCT would have had no sets and no lights for at least the first four years we had a full time director." – Colleen Kavanaugh, LCT Hall of Fame Inductee
Image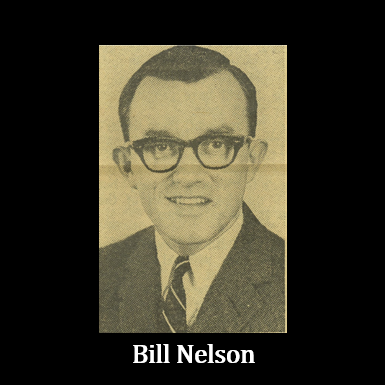 Bill Nelson
Artist of Distinction
Many talented actors have traversed the LCT stage, but Bill Nelson ranks among the most gifted. Starting in 1964 with The Bells are Ringing, Bill acted in numerous productions for the next four decades.  Incredibly versatile, Bill often played the pivotal role or a marvelous character part. His credits include Sakini in The Teahouse of the August Moon (his first leading role) and Fagin in Oliver!  Drama, comedy, musical - Bill mastered them all, and his marvelous talent was acknowledged with several well- deserved Dionysis Awards (7 by 1979, and there were still more to come!). In 1983 Bill Nelson and Julia Saterbak appeared in The Gin Game, which was awarded first place in the ACTFEST theatre competition, paving the way for many more LCT entries and first place wins. Bill also volunteered in several capacities backstage, and even directed Night, Mother in 1985. As his former cast mate, Florann Graf once put it, "Charming, creative, witty and often unpredictable – that's the Billy we knew and loved."
Bill made his LCT debut as Dr. Kitchell in The Bells are Ringing in 1964. His performance as a kooky, musically inclined dentist earned him his first Dionysus award.
Bill reprised the role when LCT produced The Bells are Ringing in 1994. It was his final performance.
In addition to acting, Bill volunteered in many capacities including Director for Night, Mother (10/11/85).
"Bill was the best actor I have ever seen or worked with on the LCT stage. When I was fortunate enough to be cast in a production with Bill he inspired me and his fellow actors to do better."- Julia Saterak LCT Hall of Fame Inductee
"Charming, creative, witty and often unpredictable. That's the Billy we knew and loved. He was fiercely loyal to his "important friends" and activities. He lit up the stage every time he was in a production. The La Crosse Community Theatre is indeed fortunate to have the talented Billy Nelson as part of its foundation." – Florann Graf, Actress and co-star You Know I Can't Hear You With the Water Running (4/20/79)
Image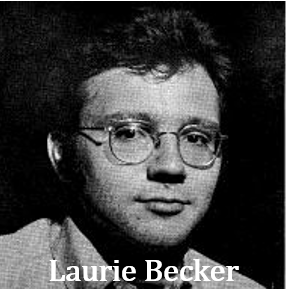 Laurie Becker
Artist of Distinction
Laurie started performing with LCT at the age of 14 and turned out many memorable performances in shows such as Three Penny Opera, Man of La Mancha and An Enemy of the People. In the early 1970's Laurie played a key role in LCT's VAGABOND PLAYERS, a traveling group of actors that took children shows to the parks. He was also a gifted costumer, props master, and director. In 1976, he directed the main stage production of Arsenic and Old Lace and received numerous accolades. In his bio for that production, Laurie admitted that he loved acting and directing equally, and took advantage of every opportunity as it arose. In fact, when Laurie wasn't working with LCT, he and fellow director Anne Drecktrah directed plays for Central High School because they did not yet have a drama club. Those who knew him say Laurie Becker was an incredible talent who died way, way too young.
"Laurie's long dedication to La Crosse [Community] Theatre and his zany wit combine to promise an expertly directed, mirthful performance." –Rachel Gundersen, former Vice President of the Board, on Laurie's directorial debut with Arsenic and Old Lace
"I was in one play with Laurie Becker, An Enemy of the People." Laurie was brilliant. It was an intense play, (Ibsen!!) I remember the intensity and focus that Laurie brought to rehearsals and his role. Laurie in his early 20's, played Dr. Stockman, a man in his 50'-60's. His portrayal of this older scientist was faultless". – Julia Saterbak, LCT Hall of Fame Inductee
"In addition to his acting and musical talents, Laurie was a gifted director, properties master and costumer, one of those people who could stage a show for next to no money, and make it look and play incredibly." – Colleen Kavanaugh, LCT Hall of Fame Inductee