Become a Patron and Make a Lasting Impact!
At the La Crosse Theatre, we believe in the power of the arts to bring joy, inspiration, and connection to our community. As a cherished member of our audience, you play a vital role in making the magic happen. We invite you to embark on an extraordinary journey with us as a valued Patron Donor.
Why become a Patron Donor?
Becoming a Patron Donor of the La Crosse Theatre isn't just about supporting the arts; it's about becoming a part of our vibrant family. As a Patron, you'll experience a sense of belonging like never before. You'll be at the heart of our mission to enrich lives through exceptional performances and transformative experiences.
Perks and Exclusive Benefits
As a token of our gratitude, we've lined up a constellation of exclusive benefits, crafted with you in mind: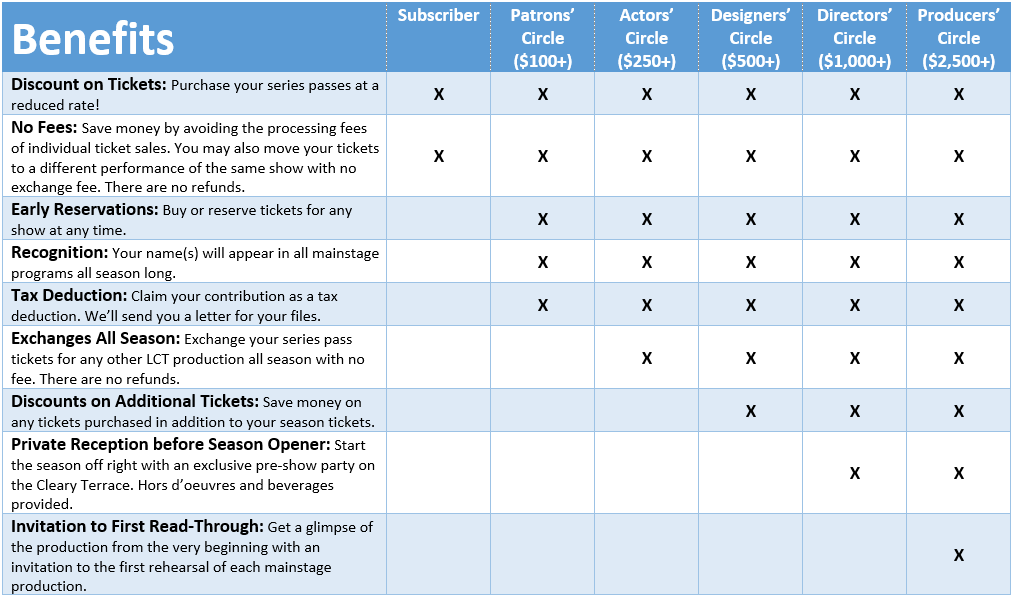 Your Impact Matters: Elevate the Arts
Every act of generosity from our beloved Patrons has an incredible ripple effect. Your support allows us to produce breathtaking productions, nurture local talents, and create unforgettable memories for audiences of all ages. Your contribution becomes a beacon of inspiration for aspiring artists, sparking a lifelong love for the arts in our community.
Thank you for being an integral part of our artistic family. We can't wait to welcome you into our world of wonder and inspiration!
Ready to Make a Difference?
Embrace the magic of the arts and become a Patron and Donor of the La Crosse Theatre today! Together, let's celebrate the transformative power of the stage and the beautiful connections it fosters within our community.

La Crosse Community Theatre
428 Front Street South La Crosse, WI 54601